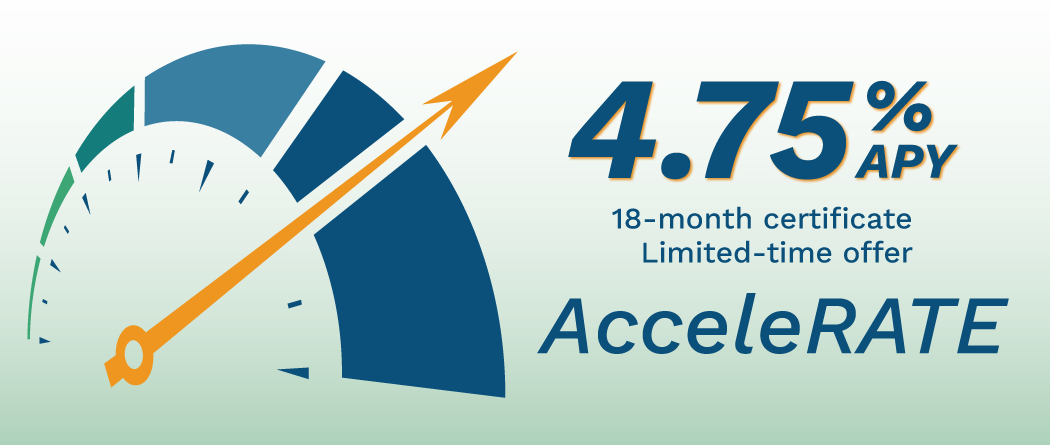 AcceleRATE your earnings!
4.75% APY 18-month Certificate Special

---
Our 18-month certificate special features:
High rate – With a competitive rate that far outperforms traditional savings accounts, you can make your money work as hard as you do.
Short-term commitment – Earn maximum returns with a short term.
Security – Enjoy peace of mind knowing your money isn't subject to market volatility.
Act fast!
Open an 18-month regular or IRA certificate special today.
New money required.
This offer expires
September 27, 2023.
Open an account today!
For new members:
Visit one of our branches
Call a member service representative at (888) 858-6878
Send a check to:
Pacific Service Credit Union
P.O. Box 8191
Walnut Creek, CA 94596-8191
Put "CERT18" on the note line
For more information, call a member service representative at (888) 858-6878. 
Offer expires September 27, 2023. Annual percentage yield (APY) as of August 24, 2023. APY assumes principal and dividends remain on deposit until maturity. Dividends are credited on the last day of the month and compound monthly. Fees may reduce earnings, and a penalty will be imposed for early withdrawal. Excludes commercial accounts. $1,000 minimum required to open account and earn dividends; $100 for members age 23 and under. Requires new money which is defined as funds not on deposit in any Pacific Service CU account. Upon maturity, the certificate will automatically renew into a 12-month certificate at the prevailing rate unless otherwise directed.