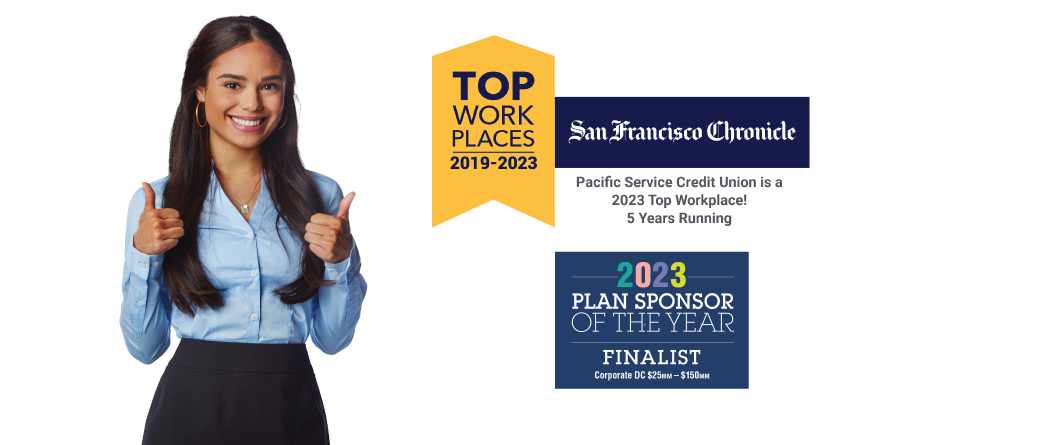 Best. Work. Place.
---
We put people first. That includes our members, our employees and the communities we serve. We hire energetic and enthusiastic people who want to work as part of our team. All openings are full time and located at 1355 Willow Way, Suite 200 in Concord, California, unless otherwise stated.




What's in it for You

Health Insurance Coverage
We pay 100% of the premium for medical, dental, vision, disability and basic life insurance for full-time employees; coverage for eligible dependents is provided for a low monthly premium.




Health and Dependent Care - Flexible Spending Account (FSA)
A tax-deductible account that can be used to pay for copayments, deductibles, some medications, and dependent care.




Health Savings Account (HSA) Employer Contribution
A tax-deductible medical savings account. A great option to save for medical expenses and reduce your taxable income.




401k
We contribute 3% of your base salary to your 401k account regardless of whether you contribute or not. In addition, we match 75% of your contributions up to the first 3% of eligible compensation beginning after your first day of employment and up to 6% after three years of service. All employees are vested at 100% for the employer match beginning the first day of employment.




Bonus Program
All employees are rewarded for attaining our annual organizational goals.




Vacation and Sick Time
Full-time employees receive more than two weeks vacation per year, 11 paid holidays and 10 days of sick leave.




Student Loan Repayment Assistance
We help you tackle your student debt by contributing toward your student loans every month. Curated advice and insights are also provided to help you restructure your loans and save money.




Other Benefits
Employees are eligible to receive a consumer loan rate discount
Educational assistance to encourage employees to pursue their undergraduate degree. Tuition, books, and other required fees are eligible for reimbursement
Confidential counseling and additional referral services as part of our employee assistance program
Employee referral reward
Employee recognition program

Pre-employment requirements include an employment application, standardized testing, including aptitude or skill-set test, a drug screen, a credit screen and a criminal background check.
We are an equal opportunity employer and do not discriminate on the basis of race, religion, sex, national origin, age, disability or any other characteristic protected by applicable state and federal civil rights laws.

Loan Saver
We've shopped the competition so you don't have to. Compare your rate and save.