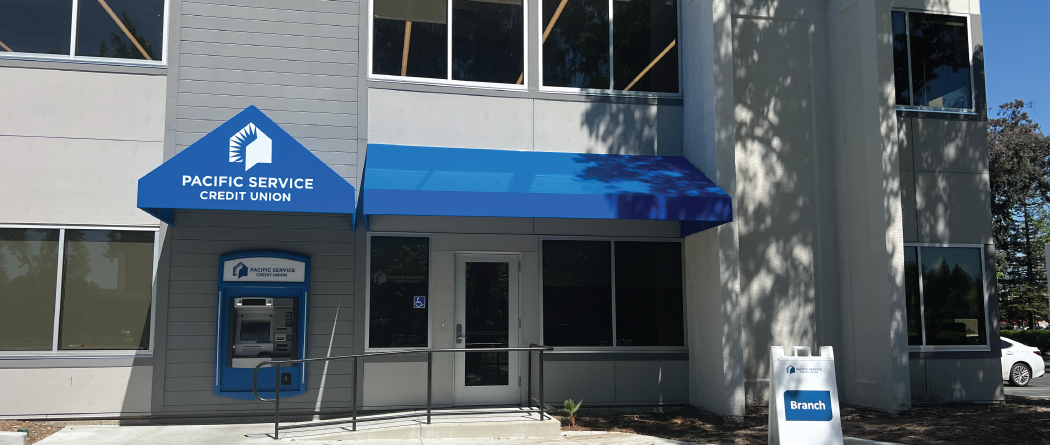 Branch Information
Branch Hours
Monday - Thursday: 9 a.m. - 5 p.m.
Friday: 9 a.m. - 6 p.m.
Saturday and Sunday: Closed
After-hours Support
Branch Services
New accounts
Loan services
Notary services
ATM available 
Coinstar
At Pacific Service Credit Union, our team of dedicated professionals strives to help you manage all aspects of your financial health. Whether you are looking to move to the area or you need a friendly credit union in Concord, CA, we're here for you.
Pacific Service Credit Union can be your one-stop-shop for all your financial service needs. 
You will be amazed at how easy and convenient it is to manage your savings and loans from one institution.
Open a Checking & Savings Account With Us
Our Concord branch is happy to welcome you to our community. Stop in to open a checking or savings account. We offer innovative products designed to meet your financial needs. We offer competitive rates and exceptional service. Our new accounts team will find the account to help you meet your financial goals.
Concord Car Loans
When you are ready to finance a car loan in Concord, CA, allow our member service representatives to help you. We offer competitive rates and flexible terms. Get approved before you visit the dealership. 
Auto Loans
Same rate for new and used cars
Terms up to 84 months
Skip-a-loan payment option

Motorcycle Loans
Same rate for new and used motorcycles
Terms up to 72 months
Skip-a-loan payment option

RV Loans
Same rate for new and used RVs
Terms up to 144 months
Skip-a-loan payment option

Boat Loans
Same rate for new and used boats
Terms up to 144 months
Skip-a-loan payment option

Concord Home Loans
If you are purchasing a home in Concord, CA, our home loan specialists can answer all your questions and provide a free, no-obligation consultation. 
Pacific Service Credit Union will pre-approve you before you shop for a new home.
Purchase Loans
Current rates and terms 
Conforming, conforming plus and jumbo loan options
Second home and investment properties 
VA loans

Refinance Loans
Convert an adjustable rate to a fixed rate
It may be a good time to refinance when rates are declining, as this will mean lower payments for you and/or reduced time to pay off a loan. If you have an adjustable rate mortgage and rates are increasing, it also may be a good time to refinance. Choosing a fixed-rate loan will keep your payment the same every month. Refinancing may also be the right option for anybody hoping to access the equity or cash in their home for home improvement projects.
Home Equity Loans 
If you own a home in Concord, CA you might have lendable equity. Home equity is the difference between the current value of your home and the mortgage balance. An equity loan allows you to borrow against your home with very low rates. This type of loan is perfect for home improvements, debt consolidation or a dream vacation. 
Current rates
Fixed rate, fixed payment loans
Flexible lines of credit, with interest only payments
Concord Personal Loans
Personal loans are perfect for larger, one-time purchases like furniture or a furnace. They are even ideal to help you plan for special events, pay for a vacation, update your home's landscaping or consolidate high interest rate debt. 
Current rates
Terms up to 60 months
Fixed rate, fixed payment 
Prefer an option with more flexibility in your payment or term? Consider our Visa Platinum Rewards card to pay for the same expenses you would with a personal loan in Concord. You will enjoy the same low rate with the flexibility to pay it off at a speed that works for you. 
Financial Planning & Estate Services
Our Bay Area credit union is your source for trusted financial planning. We offer free, interactive courses and tools to help our members manage their money, learn how to borrow and save, and protect their finances.
We also partner with Affinity Trusts to offer discounted estate planning for our Concord members. Services include creating or amending a revocable living trust to include the following: 
Pour-over wills
Transfer documents
Durable power of attorney 
Advanced healthcare directives 
Additional Services
Feel free to visit our branch for added services, too. We provide notary service as well as Coinstar, where you can conveniently turn loose change into cash.
Why Choose Pacific Service Credit Union for Your Banking Needs?
There are countless options when choosing financial institutions, but our credit union offers something more. Our local Concord branch is dedicated to supporting the community. We're here to provide you with access to the best financial services to meet all of your loan and banking needs.
Visit Us
When you need auto loans in Concord, CA, or you are looking for a competitively priced checking account, Pacific Service Credit Union is here. Our member service representatives and loan specialists are happy to answer all of your questions.